Dear friend,
We all feel cautiously relieved, now that Mekelle and most of Tigray have been liberated (section 1). At least the people can breathe, the farmers can work on their land, but numerous challenges remain. This is a victory of all the people of Tigray: the peaceful resistance to protect Mekelle's Ayder Hospital (section 2), the numerous people who took big risks to transmit information for the Atlas of the Humanitarian situation in Tigray and newsletters, and to international media, and the many who gave their times and resources to help fellow Tigrayans more affected than themselves. Reconstruction works need to start now, and for sake of efficiency there should be direct passenger flights between Mekelle and the outer world (section 3). Last but not least, if not yet done, I hint to different ways of helping the people of Tigray in this reconstruction (section 4).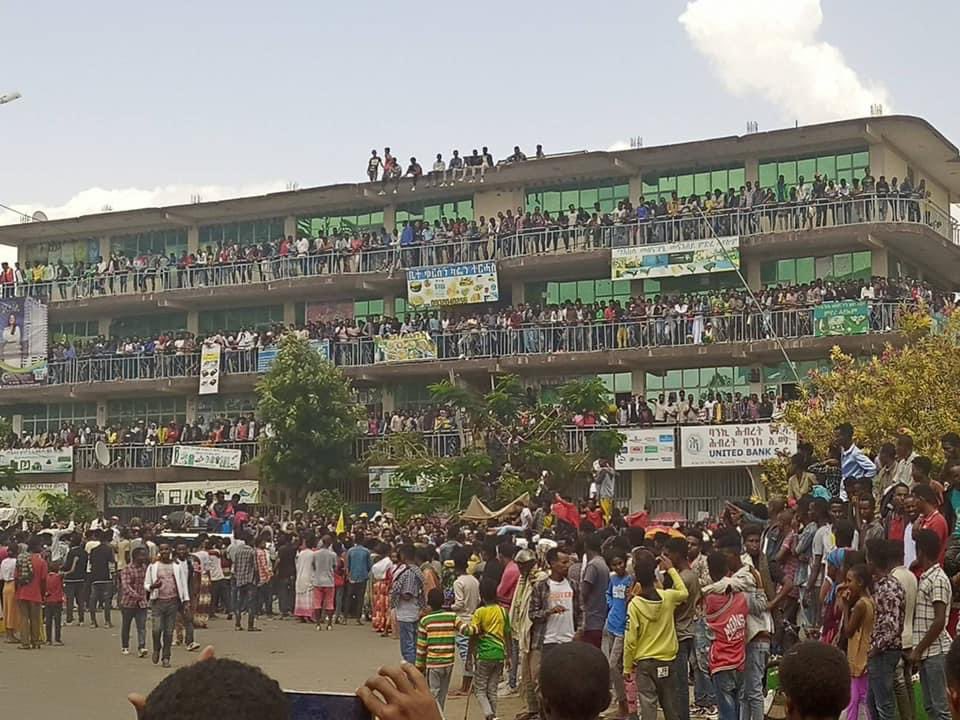 Mekelle has been liberated
The big news is of course that on 28 June Mekelle and several other towns (Alamata, Adwa or Shire) have been liberated. ENDF and EDF troops have surrendered massively, although Eritrean troops are still in border areas such as Irob, where they have gathered on top of the Ma-abino hill. As we write, Amhara militias are also in disarray in Western Tigray.
But it is not over yet. There is famine, there are nearly two million displaced people, women have been raped, much infrastructure was looted and destroyed, people are mourning their beloved ones who were massacred. Yesterday's CNN report is quite eloquent:
https://edition.cnn.com/videos/tv/2021/06/28/lead-nima-elbagir-dnt-live-jake-tapper.cnn
The Bravest Protest I Ever Saw in Mekelle
(Report by Dr Tony Magaña, USA)
"Today has been a mixture of sadness and joy. For sometime I have wanted to tell the story of what I think was the most heroic thing I have ever seen in my life, which was the unarmed defense of Ayder Comprehensive Specialized Hospital in Mekelle. Now that Mekelle is free it is important to tell it.
On November 26 and for the next few days in Mekelle, there were Ethiopian and Eritrean forces looting, shooting, robbing, and harassing civilians all around the Ayder area, where I lived and the hospital is located. The hospital was occupied by Ethiopian army regulars, then by Special Forces from Oromia, and the so-called Federal Police. Then suddenly for about half a day they disappeared.
Rumors were flying in the city that Eritreans were ransacking public utilities, schools, etc. The local population of civilians began to put tires, logs, and stones around Ayder Comprehensive Specialized Hospital, the main teaching and tertiary hospital for Tigray, fearing that the hospital which was highly valued by the city would be destroyed or looted.
Special Red caped soldiers showed up and began harassing the locals more and more. The locals did not back off. They gathered by the thousands and began to surround the hospital 24 hours a day. Many times semitrucks and smaller trucks driven by Eritreans which were empty tried to make it to the hospital to loot it."
"At one point a group of young men were shouting about ten feet ahead of me to the soldiers. Suddenly the soldiers fired at them, killing one person and injuring two others. At that time, there were tires burning all around the hospital with thousands of protesters. The soldiers were scared and I feared the worst was going to happen. It was tense until the morning. Finally the lined up trucks were told to leave.
Pictures I had of the event were erased by Eritrean patrols that would search me everyday I went to the hospital, but I will never forget the bravery of the people in Mekelle who unarmedly defended their hospital."
Personal request to the Tigray Regional Government
I have a personal request to the Tigray authorities, that many of you may share. We know that the Regional Government has lots of issues to handle now, including "mopping up" hostile forces (to use Abiy Ahmed's terminology), securing borders, overcome the famine, get the society working again, get compensations for all the damage done… I have an additional personal request to the Tigray authorities: please organise direct passenger flights between Mekelle Alula Aba Nega airport and some major international airports! There are many people all over the world who wish to come and help to rebuild Tigray!
How can I help the reconstruction of Tigray, how can I send money to help the Tigrayan farming communities?
Discuss on the setup of academic projects, and contact colleagues at Mekelle University, Aksum University, Adigrat University or Raya University. Telephone and internet connections have been interrupted, but hopefully it should only be a matter of days before these are re-established, at least for Mekelle
Prepare humanitarian projects, see international NGOs, or major NGOs in your country, or contact the Relief Society of Tigray.
Directly send aid to rural communities in Tigray, see this fundraising set up by EthioTrees: https://www.gofundme.com/f/food-for-farmers-in-tembien
In the media
CNN, 29 June: New video of Ethiopia massacre shows soldiers passing phone around to document their executions of unarmed men
Der Spiegel, 28 June: Das Grauen der Frauen von Tigray [in German]
Frankfurter Rundschau, 27 June: Mitglied der Tigray-Rebellen: "Wir sind der Sündenbock" [in German]
Associated Press, 27 June: 'Like a hell': Ethiopia airstrike survivors recall massacre
La Repubblica, 26 June: I medici italiani nel Tigray: "Uccidono anche i ragazzi" [in Italian]
Vox, 25 June: Ethiopia is facing a human-made famine
Médiapart, 24 June: Éthiopie : le double jeu de la France [in French]
Today News Africa, 24 June: Human Rights Watch asks Biden to hold war criminals in Ethiopia's Tigray region accountable and back International Criminal Court
Bellingcat, 24 June: Tigray Conflict: Videos Provide New Details of Mahbere Dego Massacre
Tessa Knight, Digital Forensic Research Lab (DFRLab), 23 June: Eritrean report uses fact-checking tropes to dismiss evidence as "disinformation"
La Repubblica, 23 June: Tigray, i ribelli all'attacco contro l'esercito di Addis Abeba [in Italian]
For the most recent developments, please do a Google search
Opinion pieces
Next time in Hagere Selam, let me invite you for a siwa (local beer)!
---
Follow up communication compiled by Prof. Dr. Jan Nyssen.
---
Jan Nyssen is full professor of geography at Ghent University (Belgium). Besides numerous scientific publications mostly related to Ethiopia, he published two books: "ካብ ሓረስቶት ደጉዓ ተምቤን እንታይ ንስምዕ"? "What do we hear from the farmers in Dogu'a Tembien"? [in Tigrinya] (2016), and "Geo Trekking in Ethiopia's Tropical Mountains, the Dogu'a Tembien District". Springer GeoGuide (2019).