Dear friends,
This circular letter highlights the problematics of the investigation on human rights abuses in Tigray (section 1). Further, of course, there is famine in Tigray – we also discuss how the farmers try to avoid a second failed harvest due to the war (section 2). Section 3 is then about the situation of the universities in Tigray and Amhara regions. A turn of events makes that several crucial documents were leaked over the last month (section 4), that all contribute shedding lights on the near-absence of firm reactions by the international community when it comes to the war in Tigray. We conclude with the announcement of a new book on revolutionary struggles and gender norms in Tigray (section 5), an overview of media articles (section 6) and some opinion pieces, starting with the open call by African intellectuals for urgent action on Ethiopia (section 7).
The human rights investigation
Insiders confirmed that the much-hyped joint investigation by the Ethiopian Human Rights Commission (EHRC) and the Office of the United Nations High Commissioner for Human Rights (OHCRC) on war crimes in Tigray seems not to come off the ground. The OHCHR has assigned this work to their Addis Ababa office, who highly value good relationships with the Ethiopian administration, even clearing their findings with the authorities (see also section 4.a), but whose professionalism and independence may be questioned.
We had a brainstorm with human rights experts involved with the situation in Ethiopia, and the conclusion is that there should really be an independent investigation. The joint investigation does not bode well. The budget is not the problem, there is enough money from donors.
The official train of thought in Ethiopia is very one-sided. Humanitarian law is not easy, but the fundamental problem at the moment is that there is hardly anyone among the Ethiopian experts who can still look at facts objectively.
Yet, on film and photo material of massacres in Tigray, none of the victims is in military clothing. And even if the victims would have been fighters, then, for instance, the following are still war crimes:
People thrown into the Tekeze River with their hands tied behind their back (Humera)
People driven to the edge of a cliff and shot in the back (Mahbere Dego)
People stoned to death (recent images published by Tghat)
Not recognizing this as war crimes indicates that the EHRC tends to see dead Tigrayans as TDF fighters, who would have been rightly killed, hence no investigation should be undertaken.
Additionally, there is no progress in investigations related to attacks on Eritrean refugee camps, neither the killing of humanitarian workers, particularly MSF.
Only a professional and neutral/objective international investigation will possibly come close to the truth. By the UN or an international court but not by the UN in Addis. In the current state of affairs, the investigation will turn out to impunity. Our brainstorm concluded that the EHRC is used as a means to keep up appearances of international justice. Apparently, the international community likes getting carried away in promises.
The BBC HardTalk interviewed Ethiopia's Attorney General Gedion. In his questions, journalist Steven Shakur refers twice to the Humanitarian Atlas as one of the main sources of information on the Tigray conflict, as well as to reports by Amnesty international. All is "officially downplayed", more openly even than EHRC does. Here is the audio recording: https://www.bbc.co.uk/sounds/play/w3ct1n64
A week earlier, Tigray's Getachew Reda was also interviewed at HardTalk: https://www.bbc.co.uk/sounds/play/w3ct1n1k
Related articles:
HUNGER!
People really really have hunger in Tigray. Even the few emails that we received from MU colleagues (presumed 'middle class') mention the problem of hunger. This is due to the blockade by the Ethiopian authorities, blockade of lifelines, but also telecommunication and banks. Even if you have money in the bank, you cannot access it! The Tigray External Affairs Office elaborated on this on 25 August: Extraordinary Briefing on humanitarian concerns, public health, economic concerns.
From our side, we published a first paper in 'The Conversation', already on 17 November 2020: "Ethiopia's Tigray region has seen famine before: why it could happen again". And recently, the follow-up, again in 'The Conversation' on 22 August: "How Ethiopia's conflict has affected farming in Tigray". Co-author Emnet Negash has been interviewed about this work by Deutsche Welle, Amharic Programme. ውጊያ ያነቀው የትግራይ እና የአማራ ግብርና. Emnet's interview starts at 4:55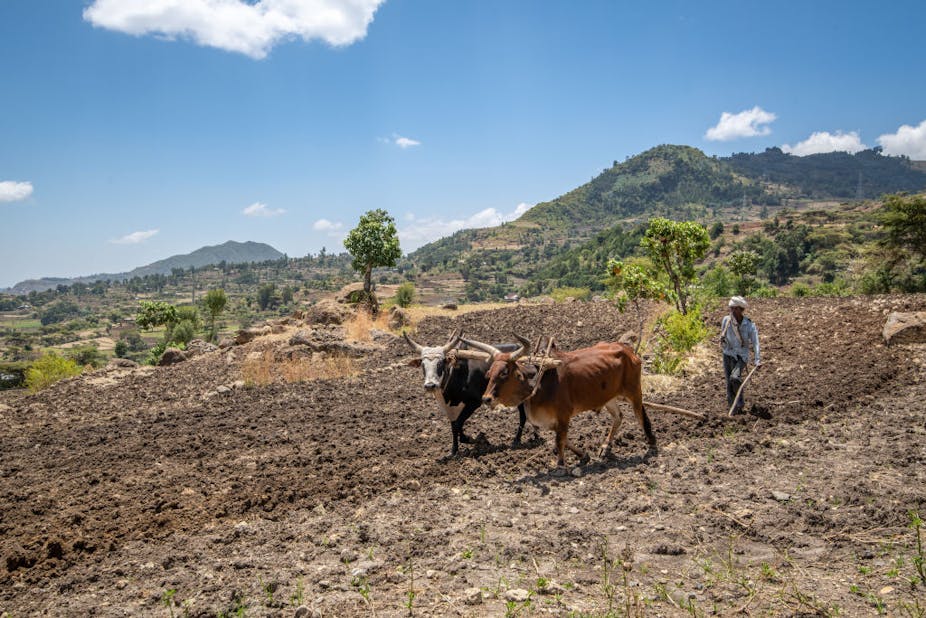 Related articles:
Universities
In Tigray's universities, staff is now working without salaries since three months, while the universities have no more budget at hand and their internal funds blocked in the banks. Yet, Raya University and its president Prof. Tadesse Dejene (KULeuven alumnus) graduated a new batch of students on 13 August.
On the other hand there is a worrisome trend in some universities of the Amhara region: at Wollo University, a list of staff members of Tigrayan origin was published, including staff members on study leave abroad, which suggests names were retrieved from the university human resources database. At Debre Markos University, the management has organised military training for staff and students. In other universities, lecturers and students of Tigrayan origin are picked up by security forces and put in prison or brought to unknown locations.
We also hear from our colleagues at several universities in Ethiopia that, again and like all civil servants, they had to give a full month of salary in order to fund the Ethiopian army. Given the state of the economy, people who have some money try to get it out of the country, through informal money transfer services. To try and prevent this, the Ethiopian authorities have forbidden all sales of properties, or even borrowing of money using property as a collateral. Officially the argument is to avoid that money can be sent to Tigray.
Related articles:
Sometimes embarrassing leaks
Just like many human rights advocates, we have often been puzzled by the neglect and late reactions of other countries throughout the world an of international organizations, who often do not go beyond "highly concerned" reactions, when it comes to the Tigray War. In August, a series of leaks, throw some light on what is going on behind the scenes. Imagine UN Women representatives downplaying the stories of the rape victims in Tigray, back in March, as a media hype (section 4.a). Or African Union staff using the official AU Twitter handle to ridiculise calls for dialogue (section 4.b). Most probably they forgot to login to their private account, but it is in line with the siding of AU with their Addis Ababa hosts. Canada again has its economic interests and a leaked report shows siding with the Ethiopian authorities for the benefit of mining companies (section 4.c). France's arms deals with Ethiopia have been highlighted in French media months ago and it is only in July that contracts were suspended (section 4.d). On the other hand, a leaked internal memo of the delegation of the European Union to Ethiopia comes with facts about the situation on the ground in Tigray and Ethiopia (section 4.e).
a. UN officials downplay sexual violence
Omna Tigray, 14 August: Leaked Audio Recording of Tigray Meeting on Weaponized SGBV Held by the Ethiopian Country Offices of Various UN Agencies
Foreign Policy, 27 August: U.N. Officials Downplayed Sexual Violence in Ethiopia in Leaked Call
b. Siding by AU
AFP, 13 August: AU Probes Tweet Blasting US Call For Tigray Dialogue
AFP, 29 August: Tigray rebels accuse AU of bias as mediation efforts grow
c. Canada's mining corporations
The Breach, 13 August: Leaked report accuses Canada of covering for mining companies in war-torn Ethiopia
d. France's arms sales
Médiapart, 21 January 2021: En Ethiopie, la France partagée entre business et défense des droits humains [in French]
English translation: In Ethiopia, France is divided between business and defence of human rights
France24, 13 August 2021: France suspends military cooperation with Ethiopia
And, there is also this:
e. EU internal memo
Delegation of the European Union to Ethiopia – A Leaked Document: Overview August 14 – 20: Both sides remain convinced that a military victory is within reach
New book on gender norms in Tigray
Our colleague Thera Mjaaland just published: "Revolutionary Struggles and Girls' Education: At the Frontiers of Gender Norms in North-Ethiopia" (https://www.researchgate.net/publication/353547170), available at: https://rowman.com/ISBN/9781498594653/Revolutionary-Struggles-and-Girls%E2%80%99-Education-At-the-Frontiers-of-Gender-Norms-in-North-Ethiopia).
She finished writing it just before the current war started. Thera's anthropological monograph is about the gender norms that do not necessarily change even though women participate in liberation struggles and girls get access to education. This issue is seen in relation to prevailing neoliberal development discourse where gender equality is understood as parity between girls and boys, women and men, and does not touch upon deep-rooted and hard-lived relations of power in the case of gender and sexuality.
Other media articles
Opinion pieces
---
Follow up communication compiled by Prof. Dr. Jan Nyssen.
---
Jan Nyssen is full professor of geography at Ghent University (Belgium). Besides numerous scientific publications mostly related to Ethiopia, he published two books: "ካብ ሓረስቶት ደጉዓ ተምቤን እንታይ ንስምዕ"? "What do we hear from the farmers in Dogu'a Tembien"? [in Tigrinya] (2016), and "Geo Trekking in Ethiopia's Tropical Mountains, the Dogu'a Tembien District". Springer GeoGuide (2019).